Monday 4th May marks the beginning of the so called PHASE 2 and the GIOVANNI XXIII MEDICAL CENTER ha set up a safety plan to keep all its patients and staff under the best
possible protection. The emergency caused by Covid-19 has changed our habits forever, leading
us to pay more attention to health rules, to the use of personal protective equipment (PPE) and to the observance of special norms to protect our own and other people's health. Certain of your understanding, we here below summarize the main alterations to our organizational system, as far as BOOKINGS, ACCESS and STAY are concerned.
BOOKINGS:
– Reception desks to book in person are closed
– Only telephone bookings are currently active
– An online booking service will shortly be put into operation at www.giovanni23.it
ACCESS:
To avoid crowding and enable smooth access, more ENTRANCES have been established: patients
will have to keep in mind their appointed access gate, park in the closest parking lot, arrive at the filter area at least 20 minutes before their appointment, and queue, while keeping at least 1 meter (3 ft) social distance. Special markings on the floor will facilitate this last operation.
– GATE A (white) main entrance: access to Outpatient Clinics, Cardiology and Admissions, and for symptomatic patients and ambulances
– GATE B (blue) Pavilion B, side overlooking Park Hotel Villa Fiorita: access for pre-admissions, postoperative checkups and swabs, and to the Dental Clinic
– GATE C (yellow) rear entrance: Physical Therapy
– GATE E (orange): access to Laboratory Analysis and Radiology, and for disabled patients or people with limited mobility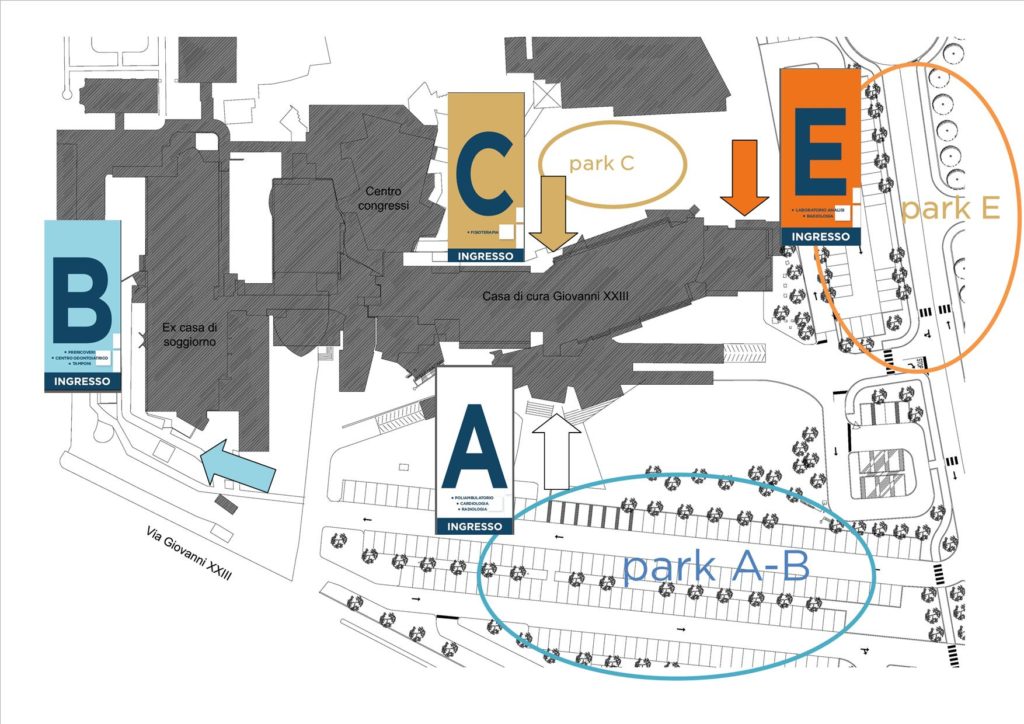 Each gate will have a filter area, and access will be granted to:
Patients with body temperature lower than 37.5° C
Patients whose booked appointments begin within the following 20 minutes. Attendants are not allowed to access the facility, except in case of underage or disabled patient
Patients wearing MASK and GLOVES (PPE)
Visits to hospitalized patients are not allowed, but devices to video call will be made available upon request
Medical reports will be sent home or made available to download
STAY:
Patients are allowed to remain inside the Medical Center just for the time needed to avail
themselves of the booked services
Seats inside the waiting rooms are partially made unavailable, to ensure at least 1 meter social distance
It is possible to enter the elevators in groups of 2 to 4 people at a time, according to the size of the
car. However, if there are no physical difficulties, it is advisable to use the stairs

We understand the inconvenience that these new procedures may cause, but they have been introduced TO PROTECT OUR HEALTH, AS WELL AS YOURS.
Coordinator – Covid Manager: Dr. Marco Bassanello
Technical-organizational Support: Matteo Geretto, Giampietro Scomparin, Antonio Bincoletto